i have been making homemade pasta for as long as i can remember
growing up
as summer arrived
so would my grandparents
both sets
heavily ladened with luggage
and lessons
my grandparents were old school italians
"the grandpops" sat on the sun porch
playing cards and tending to the vegetable garden planted each year
(zucchini flowers were a must have every summer)
and the "grans" would sit at the kitchen table
compiling lists of what would be needed for the evening supper
pasta
always a side dish
always
homemade
we would make it several times each summer
filling our bellies and the freezer
the dining room
became
pasta central
a table only used at christmas
in a room that appeared hermetically sealed
would become
a work bench, covered in flour
we'd spend hours
kneading
rolling
cutting
and
drying
our summer staple
it must be said
we never used 00 flour
the type used for pasta in many regions of italy
it was hard to find
and expensive
we used what we had on hand
it was delicious
my grandparents have all passed
and with them
many of the summer traditions
we all enjoyed
but
i still make pasta
in small quantities
with the same equipment
as generations past
however
it is abundantly less shocking
to see my dining room
littered with flour
and covered in pasta
sometimes i use 00 flour
when i have it on hand
but mostly
which works beautifully for a delicate pasta
like this lemon pasta
used to make chevre ravioli
not quite how nonna would do it
but delicious
none
the
less
lemon-chevre ravioli
for the pasta
2 tsp finely grated lemon peel
place the flour in a mound on your work bench. using your fist, make a large well in the center of the mound.
Using the fork, bring the flour into the eggs to begin forming a dough. Continue bringing the flour in until you have a sticky mixture. Begin working the rest of the flour in by hand and knead for at least 10 minutes, and until you have a very smooth dough. The dough must be very smooth and well kneaded before leaving it to rest for 10 minutes or up to an hour at room temperature. Cover the dough with plastic or a towel or something to discourage a "skin" from forming. When ready, use a bit of flour so the dough does not stick and roll very thin. cut in desired shape(s)
for the filling
5 oz chevre--room temperature
3 oz cream cheese--room temperature
1 tsp finely grated lemon peel
1/4 cup grated parmesan cheese
mix everything together until evenly incorporated. place in refrigerator until using. can be made up to a day in advance and kept covered in the refrigerator.
to assemble
small bowl of water and pastry brush
semolina flour or cornmeal
it is important that your dough is rolled out thin, because you are using two pieces. it doesn't have to be as thin as a won ton wrapper, but it should be close to it. if you are using a pasta machine, roll the pasta to the second thinnest setting.
place 1 sheet of pasta, cut into strips 2" wide and as long as you like on your work surface. make sure your surface is dusted with flour to prevent sticking. place filling with a teaspoon in the center of the dough, leaving room for even border on all sides. brush the dough, where you are going to seal the top piece, with water. place a second piece of dough on top. press around the filling with your fingers until you have a nice seal. stamp with your ravioli cutter, cut with a knife, roller or cookie cutter to make uniform ravioli. press the seams one more time. place on a cookie sheet sprinkled with a bit of semolina or cornmeal to prevent sticking. use immediately, or freeze for future use.
this recipe is being linked up to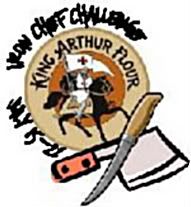 *full disclosure...i received a coupon for a 5lb bag of flour from king arthur flour for agreeing to participate in this challenge.